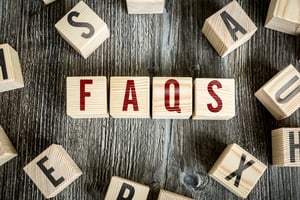 You've got questions. We've got answers. Here are some of the most frequently asked questions at Northwest Oral & Maxillofacial Surgery.
At Northwest Oral & Maxillofacial Surgery, we recommend that your child be evaluated for wisdom teeth surgery around age 16. By the age of 18, all 32 teeth will have grown in, but there is probably only room for 28 teeth. During routine visits, your child's dentist or orthodontist will take x-rays and will be able to determine if the third molars (wisdom teeth) should be extracted. Pain and swelling in the back of the mouth may also signal that wisdom teeth are becoming an issue, too. At any rate, choose a board-certified oral surgeon for the safest surgical procedure for the removal of wisdom teeth.
Is there
a

best time to schedule wisdom teeth surgery?

We recommend using the summer months for wisdom teeth removal. Teens usually need up to five days to rest and recuperate. Recovering over a summer break does away with the pressure of having to rush back to school or athletic activities. It also alleviates the self-conscious worrying about post-procedure swelling and redness. At Northwest Oral & Maxillofacial Surgery, our surgeons are prepared for the busy summer months and increased number of students that require wisdom teeth surgery.
What can happen if wisdom teeth are not extracted?
When there's not enough room for wisdom teeth to erupt successfully, they may grow sideways, partially emerge from the gum, and even remain trapped beneath the gum and bone. Complications include:
Bacteria that may grow in the opening around a partially erupted tooth that can cause a painful infection and illness.
The pressure from the erupting wisdom tooth may move other teeth and disrupt the natural alignment.
Tumors or cysts can form around the impacted wisdom tooth, resulting in the destruction of the jawbone and healthy teeth.


I can't decide between a bridge and a dental implant for my missing tooth. Which is better?
In nearly all cases, a single dental implant is a better choice than a bridge for people missing one tooth. A bridge requires that the two neighboring teeth be filed down and used as anchors for the new prosthetic. A dental implant does not require anything from neighboring teeth and are left intact. Dental implants integrate into the structure of the jawbone, preventing bone loss and gum recession that often accompanies bridgework and dentures. And lastly, dental implants provide a more secure and comfortable fit. A dental implant is closest thing to a natural tooth as you can get.
What is the All-on-4 treatment?
This contemporary restoration technique is an innovative alternative to poor-fitting, awkward and unstable dentures. The All-on-4® treatment concept is suitable for the endentulous (being without teeth) patient and replaces all of the missing teeth on the upper or lower arch with a full dental bridge supported by four dental implants. It's a secured prosthesis that only your dentist will remove for scheduled routine cleanings.
At Northwest Oral & Maxillofacial Surgery, we work cooperatively with your general dentist to coordinate your treatment plan and a successful outcome. Our responsibility is to safely extract all teeth and to prepare your jaw for the placement of four to six implants. Bone grafting may be necessary in order to provide a stable foundation for your implants. A temporary bridge will likely be placed immediately, and after a short healing period, your dentist or prosthodontist will place the final fixed prosthesis.
Do you accept insurance?
At Northwest Oral & Maxillofacial Surgery, we accept most major dental insurance. We encourage our patients to check with their insurance company to confirm that we are in-network providers. Following a consultation and presentation of a treatment plan, we will verify benefits and let you know how much your insurance provider will cover and how much you will owe on the day of surgery. We accept cash, checks, credit cards and Care Credit, too.
If you require oral surgery, please contact Northwest Oral & Maxillofacial Surgery today. Our Board-Certified Oral & Maxillofacial Surgeons will provide each patient with a comprehensive treatment plan specifically tailored to meet his or her needs. We have offices conveniently located in Spring, The Woodlands, Magnolia, Conroe, and Huntsville. Please contact us today. Visit our website for office locations and telephone numbers. by clicking here