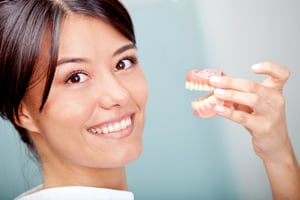 Dental implants are frequently used to replace missing teeth. These implants look, feel and function just like natural teeth. If you are missing teeth, wear a dental prosthesis, or if you are about to have teeth removed, why not consider dental implants?
1. How General Health Affects Candidacy
When dental implants are placed in a healthy patient who adopts a good oral hygiene routine, the success rate is an astounding 95 percent; however, even individuals who have health issues are good candidates for dental implants as long as these issues are well-controlled.
2. An Adequate Amount of Jawbone is the Key to Success
The portion of the implant that is placed within the bone looks very similar to a typical screw. And just like a typical screw, in order to remain stable, the implant must have something to hold on to: The implant uses the jawbone to secure the replacement tooth or overdenture. For this reason, an adequate amount of jawbone is vital to a successful dental implant procedure.
3. The Process Can Be Lengthy
The biggest factor related to the length of time necessary for the completion of a dental implant process is whether a bone graft is required. A bone graft allows implants to be placed despite natural bone loss because the graft is used to help rebuild the jawbone. However, the implants cannot be placed until the graft healing is complete, which can take several months. Nevertheless, when sufficient bone is present, an implant may be placed directly following a tooth extraction.
4. You May Want to Stop Smoking
There are a couple of reasons that people who smoke have a higher risk of dental implant failure. Nicotine causes the blood vessels to shrink, which disrupts circulation, thus essentially starving the tissues of the nutrients they need to heal. In addition, the continuous suction action performed while smoking disrupts the healing process.
5. After Surgery, You Will Eat a Soft Diet
You will need to eat soft foods for at least the first week following your procedure. This will give your mouth the time it needs to heal. Items to consider purchasing before your dental implant procedure include yogurts, soups, instant mashed potatoes, eggs, applesauce, puddings and gelatin.
6. Checkups are Essential
Even after your dental implants are complete, it is important to visit your dental professional for regular checkups. These checkups confirm that the implants are intact and healthy. If you maintain your dental implants through regularly scheduled checkups, you may be able to prevent future complications.
7. Your Implants Need Daily Care and Cleanings
You have to care for your dental implants in the same way that you would care for your natural teeth. Use mouthwash to eliminate bacteria, and brush and floss daily. Biannual cleanings are just as important for dental implants as they are for natural teeth; therefore, don't forget to make your dental cleaning and checkup appointments at the beginning of each year.
If you are considering dental implants and you reside in the Houston area, please contact Northwest Oral & Maxillofacial Surgery today. Our Board-Certified Oral & Maxillofacial Surgeons work together to provide each patient with a comprehensive treatment plan specifically tailored to meet his or her needs. We have offices conveniently located throughout the Houston-The Woodlands-Sugar Land metropolitan area. Please contact us today by clicking here or calling 936-441-8180 to schedule your initial consultation.